Testing God Through Prayer & Meditation
On the Purpose of Knowing God Through Prayer
The fellowship between believers in Christ is the sweetest and the purest expression of God on earth. We are the Body of Christ. That isn't merely a symbol or a play on words. It's a spiritual reality. The church is the mystical body of Christ still living in and through those whom He chose before the foundation of the world.
When we display God's love before a watching world, we are expressing the very love that God is. But where does prayer fit into this?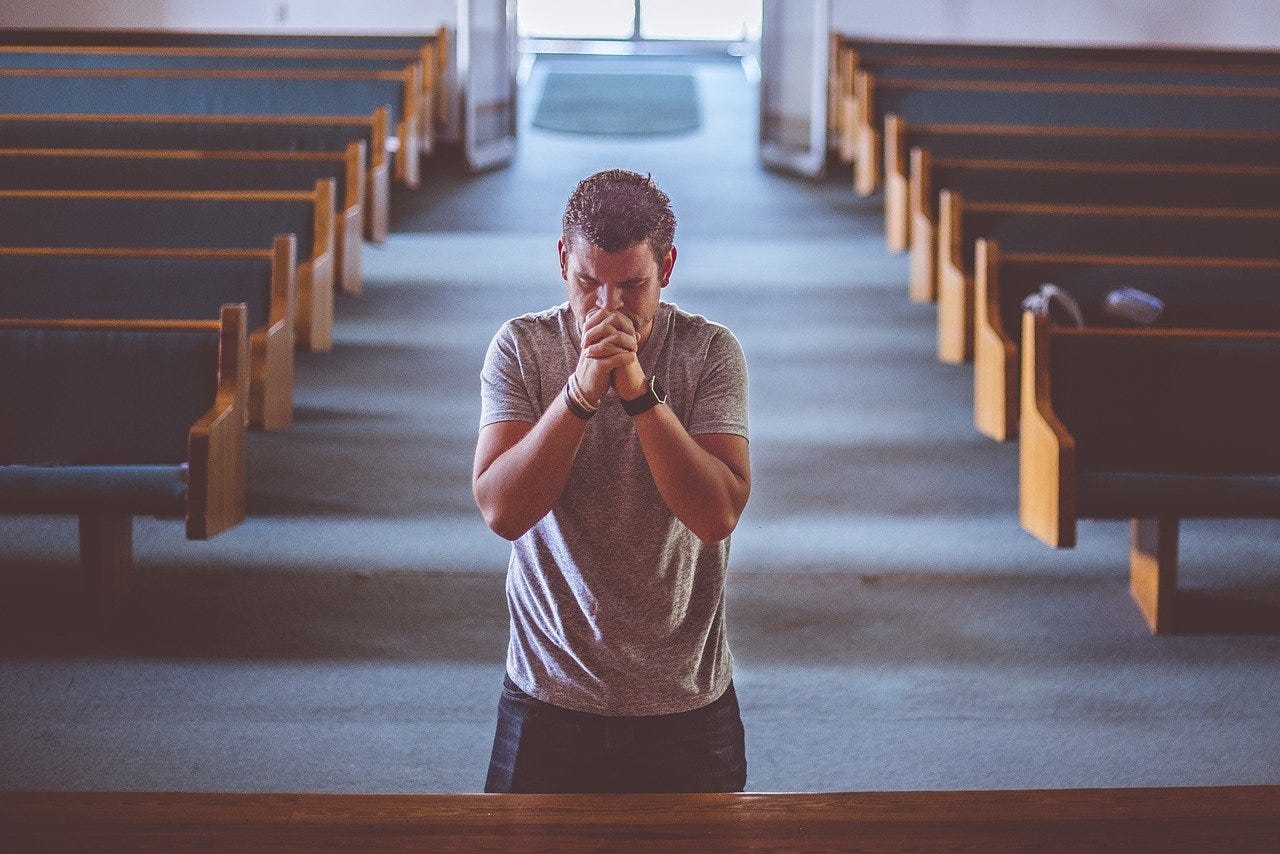 The Outline of 'Testing God'
Just a quick review of where we've explored and where we'll go. This series on the importance and implications of testing God is divided into four parts:
Belief in God is a necessary starting point

Why it's important to study God where He is and Has Been

Aligning oneself with God's purpose is paramount

Check for results
We are currently in the second phase of the discussion—the importance of studying God, and where that study should take place. So far, we've discussed:
To recap: A proper study of God can begin with nature. God's fingerprint is all over it. But He has revealed Himself through His word, the Bible. Reading beyond the Bible can give us other glimpses of God as He has revealed Himself through others. And we maintain our fellowship with God through our fellowship with other believers. It is there where the rubber meets the road.
No discussion of studying and testing God would be complete, of course, without discussing prayer. And we also have its sister discipline, meditation. Let's begin.
What is Prayer?
There seems to be two general views about prayer, both of them wrong. In the first view, and many Christians are guilty of this, the person praying makes a list of things they want and presents that list to God as requests hoping that the divine will see fit to grant the requests. These requests may be selfishly personal ("Dear God, I'd like a new car"), requests for someone else ("Lord, please heal my friend Janice of Lupis"), or something of a more universal nature ("I'd like an extra dose of world peace, please").
New believers often develop this idea of prayer because they haven't quite figured out the real purpose of prayer yet. Drawing a loss but knowing they are supposed to pray, they often just find themselves making requests, some of them reasonable and some of them quite extraordinary. They quickly learn, however, if they are sincere in their faith, that praying is not like sitting on Santa's lap at the mall. When they come to this realization, their prayers begin to take on a form more closely akin to The Lord's Prayer.
The second view of prayer is more prominent among unbelievers, but believers can fall into this trap too—especially if they pin their hopes on the first type of prayer mentioned above and fall into disappointment when those prayers prove ineffective.
Some people seem to believe that prayer is just some ritual we humans go through when we want to feel pious or need a psychological pick-me-up and have nowhere else to turn. People with this view of prayer, unlike those of the previous view, do not really believe their prayers will ever be answered, and probably believe there is no one who can answer them. Rather, they see the entire exercise as having no benefit at all except in making the person praying feel better, like pouring one's heart out to a friend after a break up with a short-term hearth throb.
In truth, before one can pray, one must first believe that there is someone who can answer that prayer. Otherwise, what is the point?
Prayer, in its simplest explanation, is communication with God. The important thing to understand about this communication is that it is two-way by nature. It is not a one-way conversation. The person who approaches prayer as a walk-up window for placing fast-food orders is not really praying. Rather, they are simply pushing their hopes and dreams out into the ether with a half-hearted expectation that they might come true. Real prayer is as much listening to God speak as it is speaking to God.
In fact, just as with communicating with others, listening is far more important than talking.
We've all had those acquaintances who made a habit of talking incessantly, droning on about this or that and not really saying anything important, and speaking so fast no one else could hardly get a word in edgewise. If we're honest, such loquaciousness is rather annoying. Yet, we may be guilty of it ourselves from time to time.
True communication, with other humans and with God, is listening first and speaking second. However, it might be helpful to speak to in order to place ourselves in a ready frame of mind for listening. When I say "listening first" and "speaking second," I am not talking about the order of events necessarily but the order of importance in the situation. When interacting with each other, there may be times when I should initiate the conversation, but if my goal is simply to tell you what I want and not care at all what may be important to you, then I am not really communicating. I am ordering. And, sadly, that is how some people approach prayer.
When it comes to praying, if one isn't listening to God speak--and it may be that He is speaking to you in response to your prayer, or He could perhaps simply use your prayer to draw your attention to something else He wants you to know--then one isn't really praying.
One final component of prayer is that it is within God's will. Praying outside of God's will is fruitless. When Solomon prayed for wisdom, God granted him so much more because Solomon wasn't asking for selfish needs or out of selfish motives. He prayed within God's will. When Jesus prayed "Thy kingdom come, thy will be done …" he was recognizing that God's will is a necessary component to prayer. Our faith in God's will and God's ability to answer prayers is the active agent to getting God to respond—after all, Jesus healed countless people in his day on the basis of their faith—but faith exercised outside of God's will is not true faith. It's more like wishful thinking.
Oswald Chamber said this about prayer:
Prayer is the way that the life of God in us is nourished. Our common ideas regarding prayer are not found in the New Testament. We look upon prayer simply as a means of getting things for ourselves, but the biblical purpose of prayer is that we may get to know God Himself.
This is a simple truth, but it is the truth. We pray so that we may know God, and in knowing God, we can test God. This played out in my life one day when I called upon God to reveal Himself to me.
Another Oswald Chambers gem is this:
Prayer is not a matter of changing things externally, but one of working miracles in a person's inner nature.
Prayer changes us. If we are not changed by prayer, then we are not praying properly according to God's will. It is impossible to come into contact with the living God, the creator of all things, who gave His only son for us, and not be changed.
If you have not read Oswald Chambers' My Utmost For His Highest, I highly recommend it.
In summary:
Prayer is listening to God

And speaking to God

Within God's will

In faith that He will answer

So that we can know God

And be changed from the inside out.
How Prayer Tests God
I said above that prayer is not simply making requests of God. That is true, but it does often involve making requests.
In Matthew 7:11, Jesus, speaking to a crowd, said, "If you who are evil know how to give good gifts to your children, how much more will your Father in heaven give good things to those who ask Him." The truth is, God wants us to ask Him for things, and He wants to give them to us. But He wants us to ask for the right things.
In James 4:3, this epistolary author wrote, "When you ask, you do not receive, because you ask with wrong motives, that you may squander it on your pleasures."
God is not in the business of doling out goodies to spoiled children. He loves to give good spiritual gifts to those mature enough to know what to do with them. So He delights in giving good gifts to His children, but He wants His children to make requests wisely. And persistently.
Back in Matthew 7, verses 7-8, Jesus encouraged his followers to make requests. "Ask, and it will be given to you; seek, and you will find; knock, and the door will be opened to you. For everyone who asks receives; he who seeks finds; and to him who knocks, the door will be opened." The verb tenses, in Greek, for "ask," "seek," and "knock" are present imperative, which is an indication that a continuing action is in mind. In other words, to appeal to God, one must ask and keep asking, seek and keep seeking, knock and keep knocking, presumably until one receives an answer.
But not all prayer is requesting. Sometimes, prayer is nothing more than adoration. The person praying is simply recognizing who God is and how magnificent His gifts are. The Lord's Prayer begins, "Our Father," an indication that the relationship between those who pray and the one to whom one prays is intimate. It's personal. But the very next statement in the prayer is "Hallowed be your name." It is a simple statement of adoration, of awe and reverence toward this personal being who is also universes above and outside our finite understanding of Him. He is at once personal and distant, both above and beyond and near and intimate. Anyone who prays to the Almighty must come to Him with this paradoxical understanding.
Another aspect of prayer is aligning ourselves with God's will. We are sinful, He is not. Repentance is the act of acknowledging our fallenness, our imperfection, our depravity before God. None of us want to admit that we are flawed, but the reality is, we are flawed. Deep down flawed. And the only way we can be made right with God is for there to be a change of heart. Prayer makes that change possible.
We can also make intercession for others. We can request their health restored, their salvation complete, their pain to disappear, their understanding to increase. Instead of praying for what others want, we can intercede for them and pray for what they need. But we cannot know what ours or anyone else's needs are unless the God that lives within us reveals them to us. For that to happen, we must be listening.
Prayer is also thankfulness. We can thank God for who He is, what He has done, what He continues to do (in our lives and the lives of those we know), and what He will do.
Finally, prayer is asking God for guidance. We may be confused, or lost. We may be unsure about a future direction or action. We can take our concerns, no matter how petty, to God and He will listen. But when we do, we must listen. And we must be willing to wait for the answer to come. It may not come immediately, and often, it doesn't. Which is why it is necessary to ask and keep asking, to seek and keep seeking, and to knock and keep knocking. Persistence in prayer does more to open the heart to God, and to make the voice of God easier to hear, than anything else.
Prayer is a kind of testing God because when we diligently, sincerely, and obediently undertake the practice of praying, what we are really doing is getting to know God on a more personal level. It is like sitting in a coffee shop with a friend we have known for years exploring the depths of each other's knowledge, imagination, and experience with conversations about things we may never have discussed before, or things we may have discussed a thousand times but have now begun to explore in a new way. When we pray to God, we enter new dimensions of our being and His. He opens up to us and we open ourselves up to Him. And we often find that every promise He has ever made is wrapped up in Himself and is revealed through His children praying—listening, addressing, and listening—to the God who has already made up His mind to give us good gifts.
Meditation and Testing God
Meditation is akin to prayer, but it isn't prayer. It may be more understood than prayer by much of the world, but in a non-Christian sense. In Eastern mysticism, meditation is an emptying of the mind. Some people practice it as a form of stress relief. It may certainly have that benefit, but that is not its purpose. Not in the Christian worldview.
Christian meditation is sitting mindfully quiet before God, reflecting on the knowledge of God and the things of God, and allowing God to speak to us through His spirit. When we come to faith in Christ, the Holy Spirit takes up residence inside us. That means that we have accepted that we are sinners and he has died for us to pay the penalty for our sins. That is not the end of it; it is only the beginning. When we meditate, we allow the Holy Spirit to guide our thoughts into the presence of God.
Meditation can often be accompanied by prayer. Prayer may lead to meditation. Meditation may lead to prayer. But these are two distinct practices with different and distinct benefits for the Christian.
One way to meditate is to reflect on some verse in the Bible we have read and allow the Holy Spirit to reveal to us the depths of its meaning. It is not analysis. We are not thinking about what the verse means, analyzing it, trying to piece it together like a puzzle. Rather, we simply wait for the spirit to reveal to us what that verse means. It could be its universal meaning, or exegetical meaning, or it could be some practical application of the verse for our personal edification. Meditation in this sense is not guided by our own understanding but by the spirit within us to arrive at a better understanding of God through His spirit.
Another aspect of meditation is simply dwelling on the things of God. One could take one aspect of God's character and simply think on it. It's a type of getting to know God better by allowing Him to reveal Himself to us in unexpected ways and in ways which we may not even know we are missing.
We could also perform the same exercise on God's creation. There is so much wonder and splendor to all the things God has made: The universe, the animal kingdom, plant life, the planet's climate, all the layers of the earth's atmosphere, and the human race. We can understand the mind and imagination of God better by meditating on His creation. When we do this, we are filling our minds with thoughts of God's glorious Mind and allowing His spirit to show us God through His creation.
Meditation, in the strictest sense, is putting ourselves in a position where we are willing to allow God to reveal Himself to us in ways and through means we have not anticipated. We must be ready, and willing, to listen to God without speaking. Where prayer is a two-way connection with God, meditation is a one-way pipeline from God's mind to our soul. It is a sort of "thinking with the soul." At the risk of sounding irreverent, it is a sort of dance between our own spirits and the Holy Spirit where the Holy Spirit leads and we follow. It should help us better understand who God is, what His purposes are, and how we fit in.
Meditation tests God because it allows Him to reveal to us who He is without the prompting of our own imaginations. In that sense, it may be more akin to testing ourselves and testing our faith, but it requires trusting God. Through that trust, we test Him to be true to Himself.
One final note: Prayer and meditation are not legalistic requirements. They are relationship building exercises between you and God. Praying every day because it is expected of you will not yield results. Praying daily, or meditating at the same time every day, simply because your pastor or a church elder said that's what Christians are supposed to do will not build your relationship with God any more than eating dinner with your spouse every night out of some sense of obligation because you feel that sitting at the same table will make your relationship stronger. It won't. Pouring your hearts out to each other will. And that can take place over dinner or a backyard game of badminton.
God wants to spend time with you. In prayer. Through meditation. Do you want to spend time Him?
Allen Taylor has been walking (and wavering) with the Lord for 28 years. He has served local churches as a Sunday school teacher, a small group leader, a worship leader, a prayer group leader, and a minister of the Word. His journey isn't over yet, and he still needs discipling.